Water dispensers are a great way to keep hydrated, but not all water dispensers are created equal. In order to find the best water dispenser in Pakistan, we looked at reviews from users and experts alike. We also took into consideration factors like price range and features to ensure that you can get the most out of your purchase! Best Water Dispenser in Pakistan
Best water dispenser in Pakistan 2023
| | |
| --- | --- |
| Dawlance Water Dispenser WD 1060 | Rs 23,499 |
| Haier 2 Tap/HWD-206R | Rs 31,999 |
| PEL Water Dispenser PWD-525 | Rs 27,999 |
| Homage 3 Tap with Refrigerator HWD-49432G | Rs 26,700 |
| Orient Water Dispenser Crystal 3 Red | Rs 28,500 |
| Enviro Water Dispenser WD-50 GF03 | Rs 20,999 |
| Nasgas Water Dispenser NWD – 200 (3 Taps) | Rs 22,999 |
| Panasonic 3 Taps Water Dispenser SDM-WD3128TG | Rs 43,499 |
| Eco Star WD-350FC – Water Dispenser | Rs 27,999 |
| Canon CA-100 – Water Dispenser | Rs 22,999 |
1. Dawlance
Dawlance is a Pakistani home appliance brand founded in 1980, later in 2016 it was acquired by Turkish company Arcelik. Company has a overall rating of 3.5 out of 5 for maintaining reliability to its consumers from last 40 years. It is available with wide range of household appliance all over Pakistan.
Dawlance Water Dispenser WD 1060
Dawlance water dispenser WD 1060 provides you with all-new European export quality with enlarged space deck with addition to up to 3-year compressor warranty. It is covered with stainless steel water tank to maintain health and hygiene both. It provides cold and hot water wherever you like.
Features:
17% bigger cold water tank
60% bigger hot water tank
Modern Ergonomic Non-Glass Fascia
Taps ; Normal, Hot, Cold
3 years compressor warranty
Specially designed for Pakistani market
Dawlance Water Dispenser WD 1051
Dawlance water dispenser WD 1051 provides you elegance with its glass door look in two colors white and black with gold finish. It comes with a mini fridge at the bottom, enjoy the freshness of your chilled beverages.
Features:
17% bigger cold water tank
60% bigger hot water tank
40% bigger refrigerator portion
Stainless steel tanks for Health & Hygiene
3 taps; Normal, Hot, Cold
3 years compressor warranty
2. Haier
Over the years Haier has made his remarkable reputation due to its multifunctional and budget friendly household appliances like refrigerators and other home appliances. It was founded back in 1984 since then providing best quality material to their discerning customer.
Haier HDW-206R
Haier HDW-206R gives you 3 litres water tank capacity with a Danfu brand compressor for an effective use, it is reviewed by customers in terms of quality, material, and longevity. You can get this dispenser in white look for a brighter finish.
Features:
Brand Warranty
Two Faucet & Two Water Temperatures.
3 L S.S Cold Tank.
Danfu Brand Compressor
Elegant Design
Color: White
Child Safety Lock
Indicator Light
12 L Refrigerator Capacity.
Voltage: 220-240 V
Haier HDW-306R
Looking for a dispenser which matches your kitchen tone with addition to best quality then Haier HDW-306R is all you need. It comes in red color with 14 litres of cabinet capacity with double doors. It has high efficiency compressor which helps in fast cooling.
Features:
Color housing: Red
3 Taps
Cooling Method: Compressor
Hot Water: Yes
Cabinet Capacity(L): 14
Double Door: Yes
Security Button: Yes
Precise Temperature sensor Eco Safety
Cabinet With Fridge
Give you a big cooling space
3. PEL
PEL is also known as Pak Electron, comes with a very economical range of household appliances. Founded in 1978 by Saigol group, it is famous for its innovativeness and a diversified portfolio for all appliance. Overall, the brand has excellent reviews, all spare parts are easily available in the market if slammed.
PEL 155 Curved Glass Door
Pel is one of the leading brand of Pakistan and remarkable for the best water dispensers in Pakistan.
The PEL PWD 115 dispenser comes with a anti leakage material and extremely durable for use. The dispenser is made of stainless steel which does not allow bacteria from entering which maintaining hygiene. This model has an included mini fridge with 18 litres of space. It is made with glass door with purple blaze work, giving it a luxurious look for your kitchen.
Features:
Brand Warranty
Two Taps
Double Condenser
Fridge Compartment
Cool 24 Glass water at once
LVS (Low Voltage 187 V Only)
Rapid Fast JET Cool
Double Condenser
Visible taps
Seamless hot & cold tank
PEL PWD 525
This model PWD 525 is energy efficient with best quality material installed compressor. It has a mini-fridge with a capacity of 4.9 and it can cool water or food down to around 2°C. It is made with glass door with purple blaze work, giving it a luxurious outer look. This dispenser comes with a 12-month warranty with automatic thermostat as per your desire.
Features:
Energy Efficient
Best Quality Compressor
Refirgerator Functions
Low Voltage Start
Stainless Steel Water Tanks
Automatic Thermostat
4.9 Litres Capacity
4. Homage
Homage was established in 2007 and now a leading brand in all over Pakistan. It famous for its quality, prompt kitchen themes, reliability, polite and longevity. Homage has a wide range for batteries, generators, inventers, AC, and Solar panel.
Homage HWD-49432G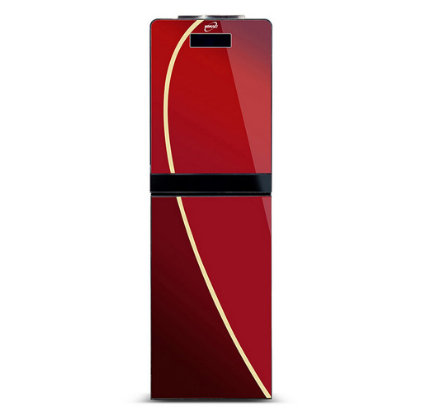 Homage HWD-49432G is an affordable dispenser with a simple outer design with a standard temperature display. The outer body is made of high-quality plastic material with child safety lock, and designed to be noiseless. The highly efficient compressor prevents the dispensers from over heating so you can enjoy chilled water anytime.
Features:
Brand Warranty
Hot / Cold & Normal Water
Child Safety Lock
Double safety device to
Low Noise Design
Refrigerator Cabinet
3 Taps design
Stylish glass door design
Indicator LEDs
Homage HWD-82
This model comes with the same glass door look as the above model with addition to the standard three temperature settings. The Homage HWD-82 dispenser has high-efficiency compressor cooling. It is made for both hot and cold water with noiseless design known to be the best dispenser in Pakistan.
Features:
Hot & Cold Water
Child Safety Lock
Low Noise Design
Refrigerator Cabinet
3 Taps design
Double safety device to prevent from overheating
High efficiency compressor cooling
Glass door design
5. Orient
Orient was founded in 1957 and has an extensive range of microwave ovens, AC, LED TV, water dispensers, and refrigerators. The brand works on ideas and concept and provide wide range of affordable and durable products nationwide to their valuable customers.
Orient Crystal 3
The Orient Crystal 3 has a standard design covered with flashy red blaze with the tallest glass door in market. It comes with additional mini fridge with rust proof tanks for Pakistani humid weather. Enjoy fast cooling technology and serve fresh chilled drinks.
Features:
Tallest Glass Door WD in Market
Easy Water Dispensing
3in1; Dispenser + Refrigerator
Rustproof Hot/Cold Tanks
Fastest Cooling Technology:
Cooling Retention Technology
Orient icon 3
Orient's OWD 531 is designed with three taps setting and cold, room temperature, and hot. Its Precise Temperature Control System allows you to access water at exactly the temperature you need – and maintain sit on that level, for longer periods of time. It is affordable with good material in less price. It has a child safety lock with reliability, longevity and class.
Features:
3 Taps
Cabinet with Fridge
Child Safety Lock
Hot & Cold Water
Thermostat Refrigerator
6. Enviro
Enviro is famous for its trustworthy reputation by manufacturing extensive range of appliance for a better lifestyle. All the products are affordable and pocket friendly as well as economical since 1990.
Enviro Water Dispenser WD-50 GF03
This Enviro Water dispenser is extremely affordable with a 16 litres of refrigerator space made with, stainless steel tank to maintain hygiene and provide quality water. It has high efficiency cooling compressor with standard white color.
Features:
Double Door Design for Child Safety
Hot & Cold Water
Stainless Steel Water Tank
High-Efficiency Compressor Cooling
Stylish Design
Type Electric
With 16L refrigerator
Enviro Water Dispenser WD-50 WF03 with Refrigerator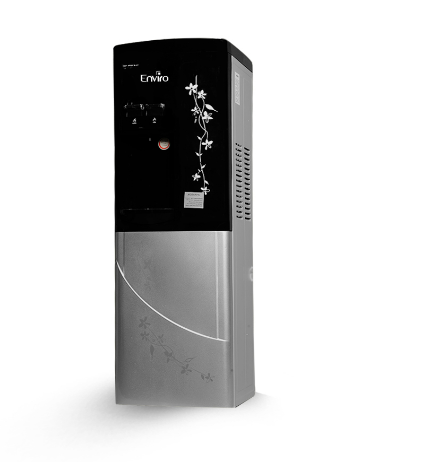 Enviro water dispenser WD-50 has a stylish look all covered in black stainless steel in a less price. It has a 17 litres of refrigerator space with child lock protection. It is long heighted with both cold and hot water standard options. It will go with any kitchen theme because of its stylish outer look.
Features:
Double Door Design for Child Safety
Hot & Cold Water
Stainless Steel Water Tank
High-Efficiency Compressor Cooling
Stylish Design
Type Electric
With 16L refrigerator